Your corporate tax return is perhaps the most predictable of business activities in the course of a year. You can rest assured the HMRC will never forget your business, no matter how big or small. They'll be on your doorstep to collect their share every year! At SimplyPayMe App we aren't forgetting about it either. We've written this piece of content to show you how SimplyPayMe App can help you complete your corporate taxes at the end of your fiscal year, and we also show you why you should not rely on Stripe to help you with this if you are a SimplyPayMe customer. By using Stripe's transaction history as reference for tax reporting, you risk underreporting on your taxes, and we'll show you how.
How to reconcile your accounts with SimplyPayMe App
Our future goal is to integrate with the UK's largest accounting software providers. However, until we get to that point, we've built a manual excel sheet for export of your entire transaction history. The sheet is built to be Xero friendly, which means the columns are adjusted to match what Xero wants to see when you import these transactions to Xero. By using our Excel sheet, you'll have your entire transaction history with SmartTrade App in your Xero account in minutes. We have also built a sheet for Sage which is currently in BETA and is available if you write to our support team on our contact us page. Here's how to export your transactions:
Step 1
Log in to your SimplyPayMe Online Dashboard and select the "Payments" tab the menu from the home page directly after you've logged in.

Step 2
Look over to your right hand side, where you will see the option to "Download Invoices."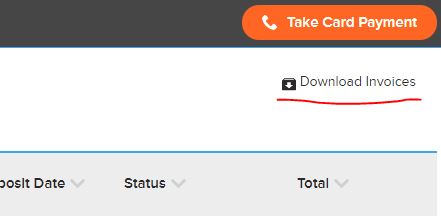 Step 3
Once you've selected the download option, you'll be able to choose which period you'd like to download. Select your dates and click "Download."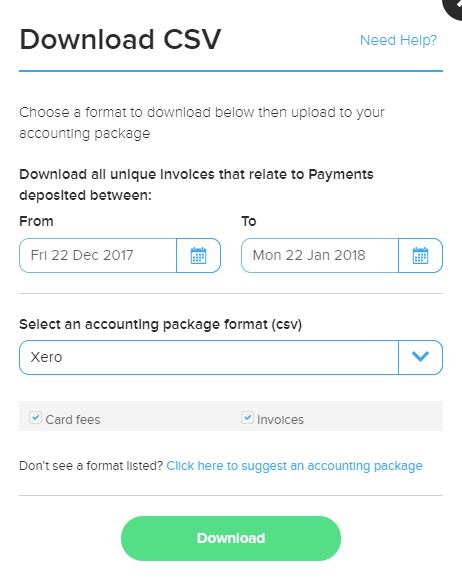 Step 4
Now you'll have a full Excel sheet, downloaded in CSV format which is ready to upload to your accounting software, or simply there for your own records and use.
How do I upload my transactions to Xero?
After you've downloaded your transaction history, uploading them to Xero is a breeze. Simply do the following:
Step 1
Log in to your Xero Account and look for the "Accounts" option in your top menu from the dashboard.

Click "Accounts" and you should see the following drop-down menu: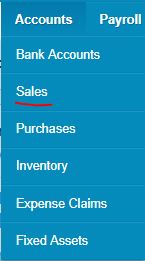 From here you click the "Sales" option which will bring you to the next page.
Step 2
On this page you will see a set of options above the "Invoices" section. Click on the one which reads "Import:"

Step 3
Once you've clicked "Import" you will be hit by a lot of small writing, which can seem quite intimidating at first. However, if you've exported your transactions from SimplyPayMe App, you can skip both step 1 and step 2 in your Xero import! We've already sorted the headings for you so you have nothing to worry about. Simply select whether you want the customer's address to be included, and if the amounts you charge are tax inclusive or exclusive and hit "Import."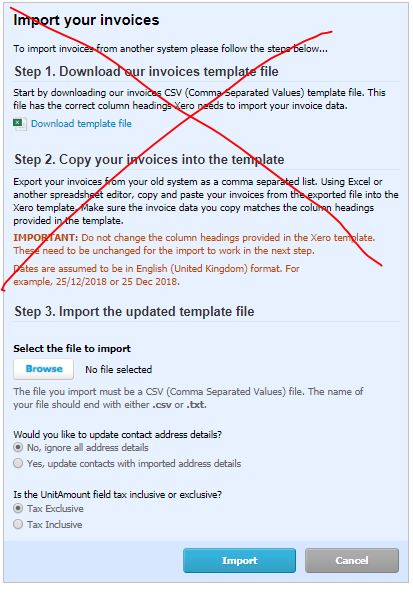 That's it! You're all set and you've updated your Xero accounts to include all your SimplyPayMe App transaction amounts.
So why should I not use Stripe's transaction files?
Thanks to one of SimplyPayMe's loyal merchants who flagged this issue, we realised Stripe's transaction files are not adequate for tax reporting. The very simple reason for this is it does not include the full amount of transaction fees which are being paid. As a payment provider there are multiple layers included in the final transaction rate you pay as a customer. This includes the interchange rate, the bank's rate, in some cases an additional acquirer and also the providers rate. However, when you receive a tax invoice from Stripe, their invoice does not include all the relevant layers, which means your processing expense will be reported as lower than what it really is. In turn, you'll pay more taxes than you would have if you used SimplyPayMe App's accounting sheet.
All in all, make sure to use SimplyPayMe's invoice download and stay on top of your taxes so you can claim back what's rightfully yours from the HMRC!