At SimplyPayMe the main priority is to keep things as simple as possible for SMEs in order to run their businesses. When you start having to use many different systems and softwares on a daily basis to keep things ticking over smoothly, it can cause a lot of headaches. The SimplyPayMe app is your one stop shop, a software that helps you take payments in different ways, send quotes and very importantly create quick and easy invoices. 
What is an invoice and why is it important? 
An invoice is a list of products or services, and the total in which they cost. Small businesses rely on invoices, they are crucial documents that enable someone to get paid for the services they have provided. Not only this, but they also help request timely payments from customers, by notifying them with what is owed. By keeping track of your invoices you can also keep track of sales and business performance and at the same time use these to help for tax purposes. 
What should my invoice look like? 
Invoices should be clearly readable and simple, but providing all the information of the services or goods offered and all the details that the client/customer needs to make payment. Invoices should include the following information: 
Your business/company information

 

Invoice date

 

An invoice number and job number

 

Payment deadline

 

An itemized list of services/goods provided

 

The amount due

 
Why use invoicing with SimplyPayMe?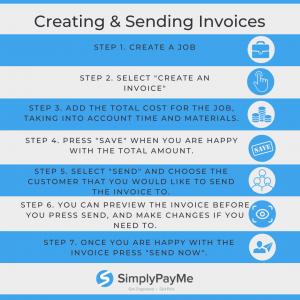 SimplyPayMe's software really does offer the ability of being able to manage your small business from one place. You can not only create jobs, manage your team and send quotes to your customers from your mobile phone, but you can also send quick and easy invoices within minutes. The invoices are customizable to your business, by being able to add your companies details and logos very simply from the start, from there on you can literally populate an invoice in minutes without having to add any of this detail on again yourself. Once you have sent invoices out to your customers you then can take payment in the payment method options offered or you can send a payment reminder. 
Don't waste your time skipping from one system to another, try SimplyPayMe's all in one software and see how we can make running your business simple and easy.