Do you spend a large percentage of your time chasing payments from your customers and clients?
Are you struggling to keep track of which payments still need to be paid? Have debts mounting up
from clients?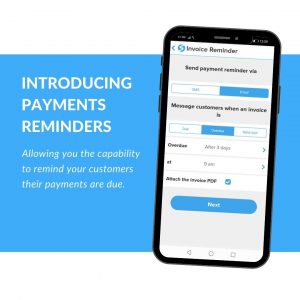 A UK Digital banking platform revealed that on average UK SME's spend a staggering 1.5 hours a day chasing outstanding invoices. The situation is even worse if you are self employed and working alone.
SimplyPayMe always aims to help any small business thrive. Our award-winning payments solution already helps small businesses keep track of their jobs and helps with seamless payments options, but we wanted to add the ease of being able to collect owed payments. So, we have introduced our newest feature "Payments Reminders". We know that spending more time on your business is super important and by using our payments reminders feature you will no longer need to take time out chasing payments from your customers. SimplyPayMe is a solution that really does offer small businesses an all-round platform to manage day to day business as smoothly as possible.
What is a payment reminder and how does it work?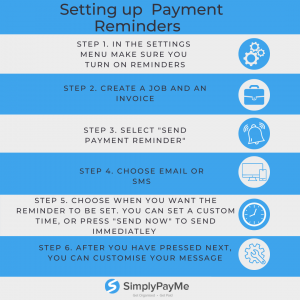 SimplyPayMe already gives you the functionality to schedule your jobs, send quotes and invoices, and keep track of your business's day to day, with the new feature you can add a payment reminder to your job or invoice – reminding your customer that they still need to pay for your services. You can hit "set payment reminder", enter your required time/date and whether you would like the reminder sent via email or SMS. You also have the option to customise your message, making it personal to you and your business. Your customer/client will receive a message reminding them that they still need to make payment. Simple, and saves you a lot of valuable time.