We are very proud to announce that SimplyPayMe App has been announced as the WINNER for the Best Mobile Payment Solution of the Year Award.
We were up against companies like MasterCard, Barclaycard, CaixaBank, GPS for Osper, Ribot & Harris + Hoole and came top with our innovations in card-readers mobile card payments over the past 12 months.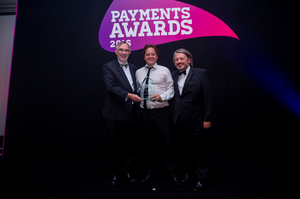 SimplyPayMe has now occupied a new category in mobile card payments known as aPos or App Point of Sale. We are the only mobile card payment solution that doesn't require hardware.
It's a very proud moment for the team here at SimplyPayMe (SmartTrade App). We want to thank the Payment Awards for recognising us and for hosting such an excellent event.
Here is Keld, the CoFounder going up to accept the award:
This award is just the start of something even greater for SimplyPayMe App. As Keld will show you, we are very much just lifting off the runway and about to take off with some awesome new developments in the next year! Stay tuned.