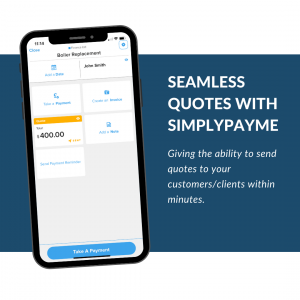 Creating a customizable quote for every one of your customers manually can be a very time consuming task. However at SimplyPayMe we have software that will enable you to send quotes within as little as 2 minutes. We aim to provide a seamless service in order for you to save valuable time. 
If you would like to include your company logo on the quote, make sure that you have uploaded it to your SimplyPayMe account. This option can be found on the online Dashboard, under Invoice Settings. 
Before you start, make sure your customer details are up-to-date within the customer section on the SimplyPayMe application.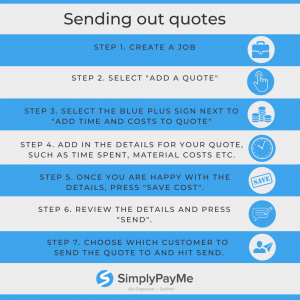 The quote will be saved within your jobs section, and emailed to the customer you have selected. Thus, you can manage your quotes smoothly with our SimplyPayMe App. Once a quote has been accepted by the customer, you can create an invoice automatically. In addition, you can even schedule a reminder for the due date of your payment. You can read about how to set reminders here.
Every week SimplyPayMe will share information about existing and new features. Follow us on social media and check our blog to keep updated. Stay tuned, we have exciting new features launching soon!