Mobile food vendors are a crucial sector of the food and beverage industry, with the US being home to over 23,000 active food truck businesses alone. And this high number doesn't exist in a vacuum. Rather, a great demand by consumers is what encourages many people to become small business owners as mobile food vendors. Food enthusiasts love the quick serving times, quality, and convenience that mobile food vendors provide, and numerous survey participants responded that they considered the food truck experience exciting. But with this rising demand, mobile food vendors need to be prepared. And we don't just mean having a fantastic menu, top-notch marketing strategy, or aesthetically pleasing truck- we mean the basics. We're talking about managing cash flow and accepting payments as a food vendor.
Index:
Introduction to the Basics of Small Business Payments
As a digital transformation envelops the world, meeting customers' expectations is highly important. Consequently, food vendors can now use mobile payment options. These options enable your customers to make payments whenever and wherever there is access to the internet. If you're looking to expand your food truck business and ensure seamless cash flow, this guide can help you choose the best payment option. We'll answer the question, 'how can I accept payment as a mobile food vendor?'
Let's start off with the growing trend of customers carrying cards as opposed to cash. It saves space, is more convenient, and in most cases, is more secure as well. Keeping this in mind, you can't expect to serve them properly if you don't accept card payments. Installing a modern food truck point of sale system enables you to receive payments through different methods. Here, we mean credit cards, debit cards, contactless payments, and much more. This way, you can seamlessly accept payments from customers, regardless of their preferred method, and customers get their food without having to rush to an ATM. Everybody's happy! The best part is that they will likely return knowing that the food's good and that you accept different payment methods.
Many small businesses, especially food truck vendors, are considering integrated payments for their business. These solutions integrate your electronic devices with a POS system. While many businesses are diverting their cash flow to an advanced POS payment system, some vendors are still unsure about making a move and managing payments using new technology. Still wondering, 'how can I accept payment as a mobile food vendor?' Before we get into the details, let's go over some of the challenges they may face.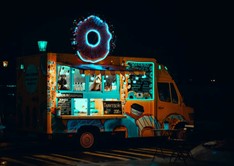 (Source)
Challenges a Food Truck Business is Likely to Experience
1.      Weather
You may serve the best food in the neighbourhood, but bad weather conditions lower your chances of making sales. Poor weather conditions are a major problem for mobile food vendors. If you think about it, no one will enjoy a picnic out in the rain, or if they came to try your delicious sliders but find that it's muddy outside. Similarly, few people would walk through the snow at freezing temperatures to get a slice of pizza from your truck.
2.      Driving Skills
As a mobile food vendor, your truck is the crucial element that sustains your business model. What's a mobile food vendor if he's not mobile? Driving your truck around all day means that your vehicle is prone to wear and tear. To avoid slowing down, you must know how to change tires, make quick repairs, and take your truck for regular maintenance. Remember, making delicious food is not enough to run a food truck.
3.      Payment Methods
A major problem that many vendors fail to resolve relates to payment methods. When setting up your food truck, remember that you need to be able to accept different payment methods. As you can't accept checks, you are left with cash and credit cards. While cash seems convenient for a mobile food vendor, it comes with its own set of problems. For starters, your truck may be a target for robbery when you only accept cash. Secondly, you miss out on serving a lot of potential customers who don't carry cash.
A Mobile Payment System that Meets Your Small Business Needs
The food truck business is thriving because many people prefer enjoying their favorite food without going through the hassle of finding a place to sit and go through a laundry list of menu items. But despite the demand, many vendors who start their business don't find success. The biggest reason relates to cash management. Fortunately, you can improve your chances of staying afloat and possibly thriving by choosing a suitable payment method among wide-ranging options.
Food truck POS systems should streamline orders and make payment processing easier. Besides food truck vendors, customers benefit from the availability to pay using different methods. By installing an optimal POS system in your food truck, you ultimately provide better customer service. It enables you to improve your business operations for your customers. This includes reducing waiting times and faster payments, among other things. The biggest benefit of installing a POS system for managing payments is the ability to access multiple payment options. When you offer multiple payment options to your customers, you'll improve convenience and overall experience.
1.      Order Management
Through a proper management system, you don't miss out on receiving any additional information from your customers. Thus, the food truck point of sale systems will help you charge customers based on customized orders. For instance, if a customer wants to eliminate a topping, include add-ons, or shares special cooking instructions, you will remember everything through a POS system
2.      Inventory Tracking
A POS system assists in managing money and stock as well. You track food items and stock by creating items on the POS system. Consequently, you can always restock food items before it runs out. Find out more about Simply Pay Me inventory tracking
3.      Hassle-free Payment Processing
With a food truck POS system, you can automatically process payments without a hitch or mistake. On the other hand, preparing food and managing a manual payment system at the same time can be hectic. Choosing the best payment processing system will streamline your transactions and help you avoid any confusion between cash and digital payments. As a result, you can save time and effort while managing all other tasks.
Getting Payment Systems Setup For Your Small Business
1.      SimplyPayMe for Mobile Payments
SimplyPayMe is an online payment solution providing flexibility to mobile food vendors. Using this mobile payment option, you can instantly receive payments from clients on your account without the need for additional hardware or software.
To setup SimplyPayMe for your business, follow these simple steps:
Click on the Sign up for free tab
Fill in the form with your information, and you are good to go.
Yes, it is that simple.
The Benefits of Using SimplyPayMe Vs. Other Payment Methods
SimplyPayMe
Take and record orders from your customers
Access multiple modes of payments, including credit, debit cards, and cash transactions
Customize and manage your receipts and deliver them to your customers via email. It's a great option to receive payments while maintaining safety precautions through touch-less or paperless receipts. Explore a full list of our features 
Access status reports, including cash flow, and track your payments. In other words, SimplyPayMe enables you to manage payments as you go.
A secure payment method with a flexible and agile solution to receive payments from multiple payment options
With quick payments, you can increase sales by serving more customers
Comparatively inexpensive compared to other options
Sign up with a free subscription package
Conclusion
Choosing a payment option for a mobile vendor is challenging as it impacts your business. As we laid out in this article it's important that you consider a POS system that suits your customers and your business needs. Payments are one part of the puzzle to make sure you also focus on logistics, marketing + having delicious food that makes people want to come back for more.
Multiple payment options mean you appeal to a greater target audience. If you want to accept payments using this mobile food vendor point of sale system, visit the website and sign up for free.