Within the past ten years, everything has entered the 'smart' age. We started with smartphones; now we have smart TVs, smart kitchen appliances, smart light switches, smart cars, and even smart footballs.
It's no surprise that businesses have to be smarter to succeed today. You're always competing with larger companies with bigger marketing budgets, more employees, and a wider reach: you have to be smart to take on the big names as a small business.
But what does it mean to be a smart business? We take a look and give you five tips on how to make your business smarter, as well as a number of things you can do right now to get started.
What's a Smart Business?
Everyone knows what a smartphone is, but what makes a business smart? How can you make your business smarter than your competitors?
As with other 'smart' things, a smart business uses advanced technology to accomplish more tasks more efficiently. Just like your smart thermostat can not only respond to your instructions, but also learn your patterns and adjust to help you save money on electricity, a smart business is good at adapting to changing conditions, like expansion.
Expanding is the goal of most business owners—more customers, more employees, more products, more services; all of this means more money. But expanding can be difficult. You have to manage larger databases, more inventory, new employees, and a lot of other variables.
A smart business can easily deal with this added complexity because it uses technology that's versatile and scalable.
In short, smart businesses get more done with less. They're efficient, and they're very profitable.
How Can You Run a Smart Business?
Smart business is all about using technology to do better business and make more money. Here are five ways that you can take advantage of modern tools to run a smarter business.
1. Be Equipped to Take Mobile Payments
This is a no-brainer. If you can't take credit card payments from the job site, you're going to lose business. An iPhone credit card reader or mobile payment app will let you take cards quickly, easily, and cheaply. And with SimplyPayMe, you don't need to buy any expensive extra hardware for your phone, sign a contract, or open a merchant bank account. No other mobile credit card reader offers this level of convenience.
A recent report suggested that mobile payments would rise by 65% this year, and not having a mobile payment solution could seriously harm your business. Don't get left behind on this one—it only takes a few minutes to get set up to take payments from your mobile! You can get started right now.
2. Have a Small Business Website
It's really easy to build a web presence for your business. It only takes a few minutes to set up a basic business website that will let customers find you online and get in contact with you. It doesn't need to be anything fancy—a list of your services and your contact information is fine. You can probably get one up and running in 30 minutes!
List your URL on your business card, in your e-mail footer, and anywhere else people are likely to see it. A website can be a great lead generation tool, and getting your address out there is the best way to take advantage of it.
3. Spend Time on Social Media
This might sound like a joke, but it's not—social media can actually help you make a lot of money! Open a Twitter or Facebook account to help people find and get in touch with you; you might be surprised at how useful it can be if you're willing to invest just a bit of time.
Use your social networking accounts to find customers, get in touch with other small business owners, and learn about running a smart business—there are a lot of really great people you can follow on Twitter to get useful information and tips on running a small business. And don't forget to follow us, too!
4. Keep Detailed Records
Do you panic when tax time rolls around? Does your spouse or your admin spend hours frantically sorting receipts and invoices? You can simplify things by using software to keep track of your leads, jobs, expenses, accounts, and tax information.
For example, the SimplyPayMe online dashboard, which you can use in conjunction with our mobile payment app, lets you download all of your relevant transaction information and upload it directly into your tax software. And the free app, in addition to being a mobile credit card reader, helps you organise all of your jobs. How easy is that?
5. Protect Your Business Online
Cybercrime is rising at an alarming rate, and small businesses are targeted increasingly often. One in five businesses is the victim of a cyber crime every year, and a whopping 60% of those affected go out of business within 6 months. Just because you don't do millions of pounds of business each year doesn't mean you can fly under the radar of cyber criminals.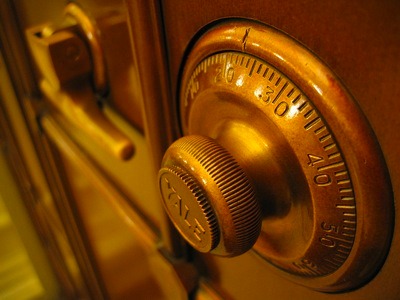 It's crucial to take steps to protect your business online—password protect your digital devices, protect any information you store in the cloud, encrypt your messaging, and make sure that you're PCI compliant. Want to find out how to do all these things?
6. Efficient Dashboarding
Every small business needs a central place to see how things are going: how much they've made this year, whether it's been a good month, how much money they're owed, and other financial information. There are a number of expensive options for these business dashboards—but we offer one for free!
The SimplyPayMe web dashboard is a great place to keep an eye on your business. It uses a simple interface to let you easily get all the data you need without overwhelming you with too many numbers and figures.
Featured prominently on the screen is the monthly earnings, which gives you a good idea of how the current year has been for your business. It also highlights your highest- and lowest-earning months of the year. The more information you have, the better.
When you have unpaid invoices, they'll be highlighted at the top of the overview screen, so you'll remember to follow up on any outstanding debts.
These pieces of information let you quickly get an idea of how things are going for your business and the steps you should take to earn more. And of course, the web dashboard also gives you access to your customer list, your jobs and invoices, the ability to take payments over the phone, and all of the other details that you need to run your business.
What to Do Next
If you can take these five steps, you'll be running a smarter, more efficient, more profitable business. And you can start with simple steps. Download the SimplyPayMe
app. Read our guide to protecting your business online. Set up a demo of our online dashboard. Check out this guide to building a website with WordPress.
What are you waiting for? Get out there and do it!
Image credits: indigo_girl, Tulane Public Relations, Garrett Heath, Rob Pongsajapan via Flickr.